So what`s making inserts on plastic molds?
Insert in plastic injection mold refers specifically to mold components used for inlaying in plastic injection mold core block. Inserts can be square, round, sheet, and the same as all mold accessories, precision requirement is also very high, inserts can be made according to mold design construction.
Types for inserts are insert pin, insert block, insert boss, inserts ring different types.
Inserts material can be SKD61, SKH51, ASP23, SKD11 and so on or the same as mold core material.
Insert material hardness must be more than 50HRC.
Standard precision: ±0.01mm.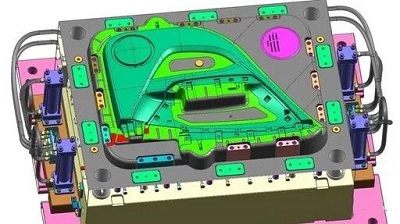 When do inserts need to be made?
1, Saving mold material
As we all know that plastic injection mold material is shaped steel blocks, however, plastic mold cavity and core material is determined by the highest point, no matter plastic mold cavity block or core block, if one place relative to the other place is higher, mold core height can be reduced by making inserts. In this case, mold core material can be saved no need to order high point accordingly.
2, Easy to make changes on plastic mold
Where plastic mold is often modified, it can be removed out to make inserts, in future when plastic mold is changed as long as insert is replaced, or even when plastic mold is designed to make a few inserts as spare parts for replacement, so as to facilitate modification of plastic mold. For example, for some ODM manufacturers, product surface appearance is unchanged, just to change LOGO to become another brand of products, then plastic mold can be removed in LOGO of that piece to make inserts, so there is no need to remake a new set of plastic mold.
3, Advantage for plastic mold venting
Mold venting is very important, bad venting will appear air trap within plastic molds, especially air trap is easily coming out in deep rib areas, plastic part is easily coming out air bubble or shrinking, lack of material , white mark or black spots during injection, so insert can be designed in plastic mold where need venting, venting can be done through fitment of inserts.
4, Easy for mold machining
AS we may know that it`s difficult for cutter of machine to manufacture some deep rib areas, if using EDM sparking machining, this machining very slow and processing efficiency is relatively low. Therefore, for deep rib areas, inserts usually can be made in order to reduce machining processing difficulty, as well as it`s good for venting. Moreover, saving material is also considered through making inserts in deep rib areas.
5, Increase plastic mold life
In general, the place on plastic mold where inserts are made is often easily damaged, once inserts are damaged, they can be replaced, thereby plastic mold can be extended accordingly.
6, Conduction plastic mold temperature
Generally speaking, plastic mold is cooled by designing water lines, but some places can not be designed water lines or water lines can not reach, these places can be made by making inserts for heat dissipation, of course, insert material must choose a better thermal conductivity of materials, such as beryllium copper.
However, making inserts still have disadvantages as follows:
1. Increase difficulty of mold assembly
2. It is easy to form out flash around insert
3. The plastic mold assembly structure sometimes increases cost of mold design and processing, thus increasing the cost
4. Too much inserted mold structure will affect design of cooling water channel of plastic injection mold
5. Too much inserted structure, mold core strength will be impacted.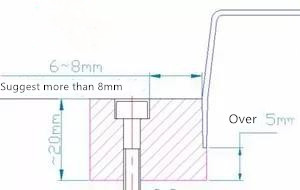 From processing efficiency, some large moulds, which are set into several small pieces, which can be processed separately to save time. Generally, there are two kinds of inserts, insert through and blind insert. For some smaller inserts, use the y-cut line to CUT the form, with platform positioning. For some larger inserts, such as more than 60X60, you can use blind inserts with screws to fix. Although processing is relatively difficult, plastic injection mold strength is guaranteed.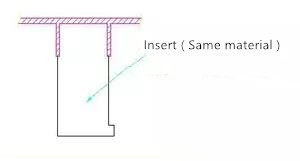 If inserts below, material can be the same as more core material, hardness need to increase 2 degree, or using different hardness of material.
Then it is in the design of hanging table, have to pay attention to the processing of degree of difficulty and benchmark position, in order to facilitate line cutting and grinding machine processing. The size of the hanging platform can be generally designed as 5x2.0mm or 4X3MM.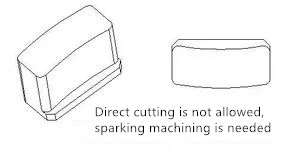 Still have hang stage to should be put in the flat position of insert, as shown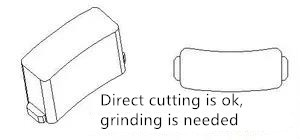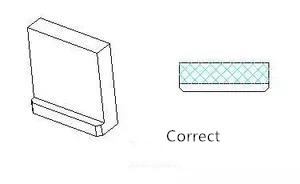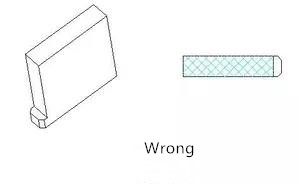 The hanging table should be shorter than the flat side 0.5-2.0, this is to facilitate the line cut R Angle.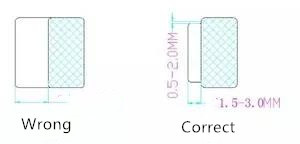 When insert piece is unusual, when unbecoming cooperation hangs a stage, can periphery do 1-2 degrees of gradient, insert directly go down, this is gradient insert piece.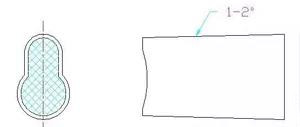 Conclusion
Inserts design in plastic injection mold is one of common structure, although making inserts has defects, it has also very obvious advantages, where inserts need to be considered during plastic mold design according to specific products, it is important to note that place making inserts would see insert marks or insert line, plastic mould design review need customer confirmation to check whether it can be accepted or not. We, Ceeto mold has rich experience in making plastic injection mold design and business refers to complex plastic products in automotive field, home appliance, daily commodities, medical devices field etc.
Warmly welcome to contact us for a quote. www.ceetomold.com and reach us via ceeto@ceetomold.com