Figure 19-2 shows an exploded view of the elements of a typical two-plate injection mold. A brief description of each element as follows: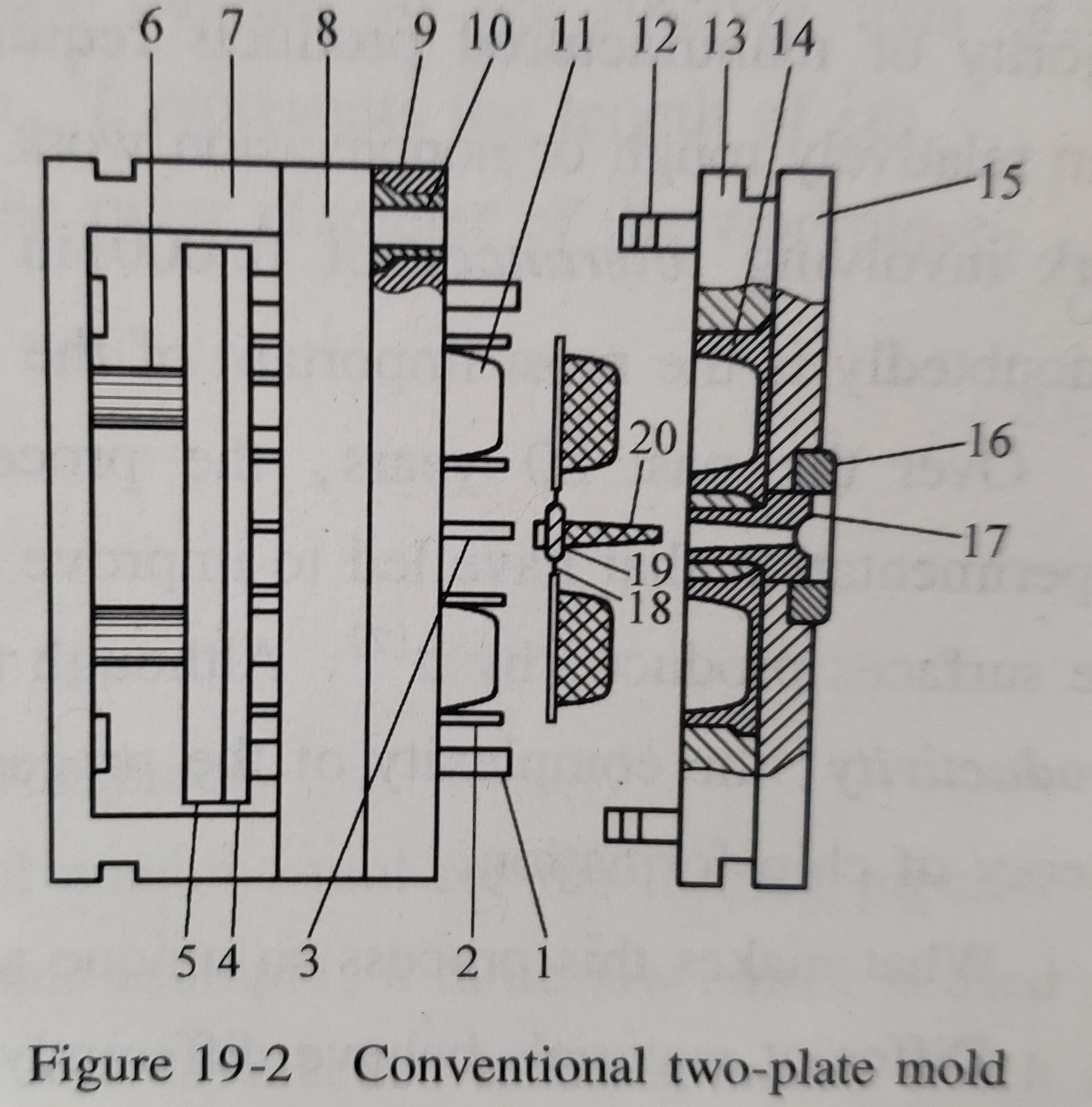 1. Return pin- returns the ejector plate back to its original position when the mold is closed
2. Ejector pin- pushes part off the core or out the the cavity
3. Sprue puller pin- pulls sprue out of the bushing when the mold opens by means of an undercut ( not shown )
4. Ejector retainer plate- plate in which the ejector pins are held.
5. Ejector plate- often referred to as the ejector cover plate. Provides backup for pins set into the ejector-retaining plate.
6. Support pillar- gives strength and rigidity for the ejector plates
7. Ejector housing- provides travel space for the ejector plate and ejector pins.
8. Support plate- adds rigidity and strength to the plate stackup (not used in all molds)
9. Core retainer plate- holds the core element, the mating half of the cavity.
10. Leader pin push- provides close tolerance guide for leader pin.
11. Core- the male part of the cavity.
12. Leader pin- provides alignment for the two halves of the mold as it opens and closes.
13. Cavity retainer plate- holds the cavity inserts ( the cavity is the area where the part is formed )
14. Cavity- place where the plastic is formed. Some molds may have the cavity cut directly in the cavity plate rather than by the use of an insert as shown.
15. Clamp plate- secures the stationary side of the mold to the molding machine. Clamps are inserted in the recess between the clamp plate and the cavity retainer plate
16. Location ring- aligns the nozzle of the injection molding machine with the mold
17. Sprue bush- a conical channel that carries the injected plastic through the top clamp plate to the part or runner system
18. Gate- the restricted area of the runner right before the material enters the cavity
19. Runner- a passageway for the plastic to flow from the sprue to the part.
20. Sprue- a passageway for the plastic from the nozzle to the runner